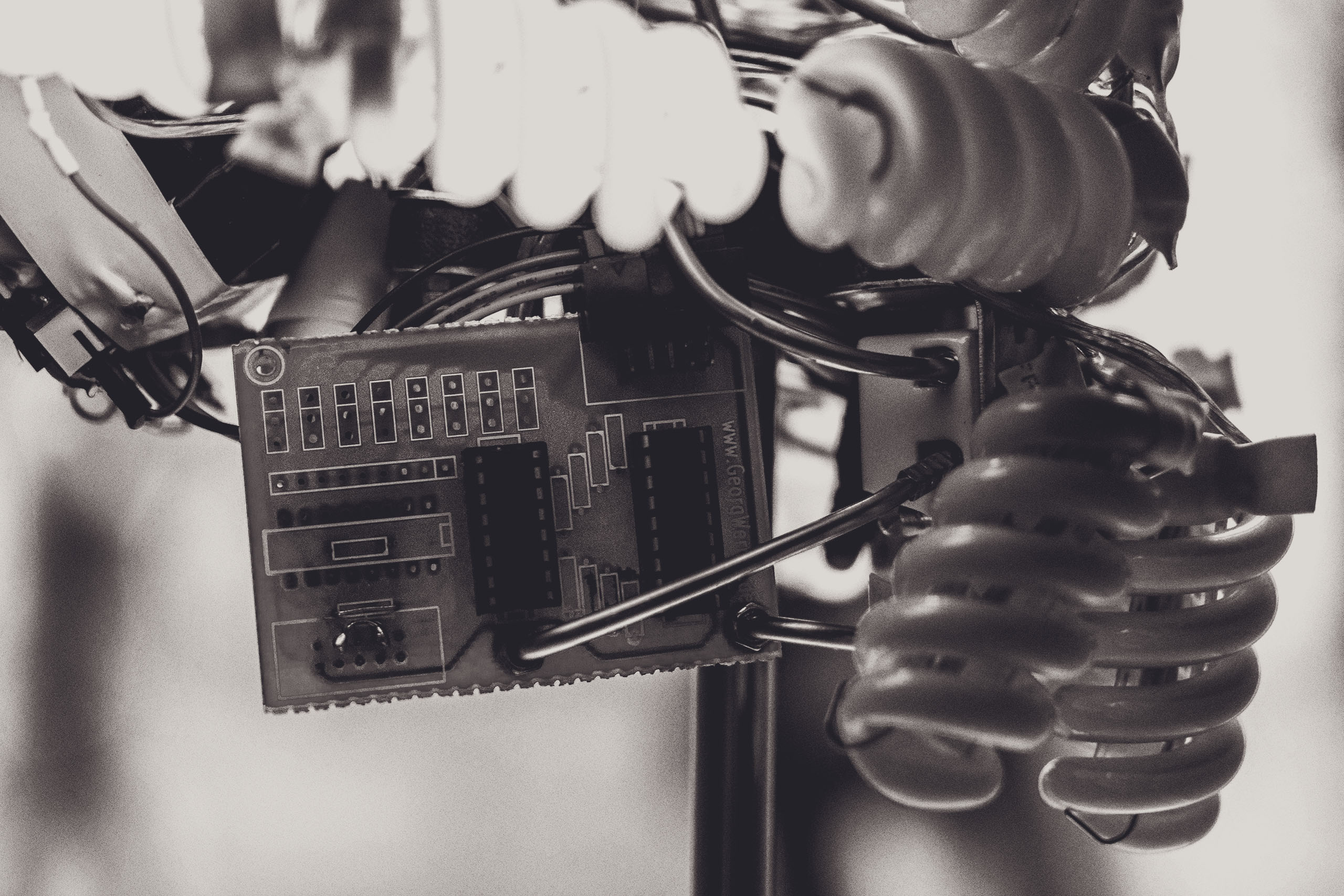 A Mentorship Program
The Berlin School of Sound offers an education in sound art, digital and analog sound, music composition and other related skills through a rotating mentorship program. Many of our teachers are experienced professors and renowned artists. We can give you the training you need in media and artistic production in sound to reach your goals whatever your background, produce work you love, and have an inspiring exchange of ideas along the way. We can also help you gain the knowledge and make connections you need to enter a professional career track without cumbersome academic rigamarole. Complete five course modules to sign up for the Studio Project course utilising our recording studio. The completion of the final work on the Studio Project course is the criteria for the awarding of our Diploma.
Modular Course Program
Our workshops and seminars run throughout the year, primarily on Mondays and Wednesdays. Course modules are seminars and workshops organised into the key skill areas for audio production, sound art, composition, programming, sound studies and other areas of expertise. Each module can be completed through attendance in the required number of seminars and workshops in that skill area (a total of 14, i.e. the equivalent of a graduate semester's worth of course work on the subject) which cover skills of that module and also participation in one of our participant performance evenings or participant exhibitions. The modules can therefore be taken singly or simultaneously with others. After completing at least five modules, the student can sign up for the last and culminating Studio Project course in order to earn the Diploma, if desired. Module 6, Transdisciplinary Audio Production is a required module to progress to Studio Project course work. In exceptional cases this structure may be changed to accommodate the experience level and needs of a particular student. Please contact us to inquire.
Our course modules are designed as an entrance into professional artistic work and research. Since we are a partner with many other university, residency, performance and art institutions in Berlin and beyond, modules can easily be geared especially to either getting you ready for application tests at institutions like the UdK Berlin, or a funded Ph.D. program in the USA, or alternatively by giving you the know-how you require to apply for internships at galleries, project spaces, recording studios, important festivals like Club Transmediale and others and production houses.
The Studio Project module includes private instruction with a mentor, the creation of your own artistic support group, project work in our professional recording studio and sound lab, and performances/installations in the Acud Club Room. Your work will also be showcased at an event at the Errant Sound art gallery and you will have the opportunity to produce a show for our radio program with Colaboradio on FRBB 88.4. Studio and Project Work is designed to launch your artistic career by gaining access to prestigious institutions with an impressive portfolio.
Workshops and Seminars
We offer our regular workshops and seminars also to the general public who may not intend to complete our Course Modules and Diploma program. The structure is therefore open-ended and helps you meet as many interesting people with an interest in sound as possible. You can sample the program by attending workshops and seminars informally and see later if you would like to have them count towards the completion of course modules and eventually the Diploma.
Ensembles
Ensembles are inclusive with certain course modules but open (after an interview and acceptance process) to participants from inside or outside the modular course program. Currently they are still under construction.
Course Modules 2023 Course Modules 2023 Course Modules 2023 Course Modules 2023 Course Modules 2023 Course Modules 2023 Course Modules 2023
Sometimes a course module may be offered in its entirety all at once instead of as an accumulation of workshop/seminars. The summer is often a perfect time for this to take place:
With Jeremy Woodruff, Katharina Bévand, Brandon LaBelle, Verónica Mota, Viola Yip, Miguel Buenrosto, Georg Klein and Roberta Busechian
Our course modules are currently in the process of getting an update:
Workshops and Seminars Workshops and Seminars Workshops and Seminars Workshops and Seminars Workshops and Seminars
Ensembles and Clubs Ensembles and Clubs Ensembles and Clubs Ensembles and Clubs Ensembles and Clubs
CRASH!
Networked Systems Ensemble
Starting 2023
Indian Music Transformation course from Music Temple
Starting 2024
Individual Tutorials
Enroll for a semester of individual tuition with these, and other scholars and artists:
Tuition fees
| | |
| --- | --- |
| Coached Ensembles | 120€ per month |
| Modular Courses* | 650€ per course |
| Studio Project course (includes project work in the recording studio) | 350€ per month |
| Individual Tutorials (90 minutes) | 130€ per session or 400€ per month for weekly mentorship |
| Workshops, Seminars and Guest Talks | individually priced (see events page) |
*Only when a course is available in one block like this summer's Sounding Art course