Khyam Allami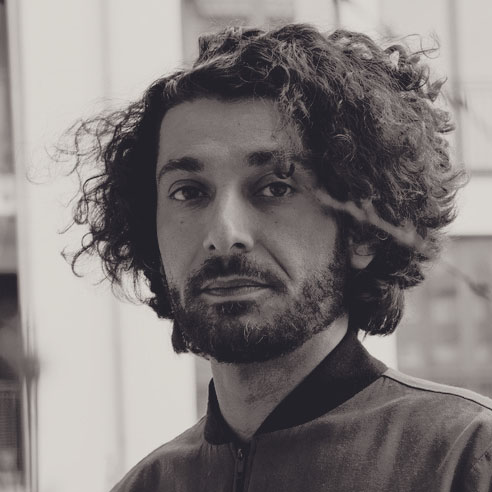 Research Focus
Oud and electronic music performance
Intonation and decolonized tuning practices
Composition for concert settings and interdisciplinary sound works
Computer assisted music composition
Modular synthesis
Cultural musicology
Curriculum Vitae
Khyam Allami is an Iraqi-British multi-instrumentalist musician, composer, researcher and founder of Nawa Recordings.
Primarily an Oud player, his artistic research focuses on the development of contemporary and experimental practice based on the fundamentals of Arabic music, with a focus on tuning and microtonality.
Despite only taking up the Oud – his principal instrument – in his twenties, Allami rapidly became a performer of international renown. His remarkably assured 2011 debut solo album Resonance/Dissonance was widely critically praised and led him to high profile performances across Europe and the Arab world including the BBC Proms (UK), WOMAD (UK), Supersonic (UK), CTM (DE), Incubate (NL) and Irtijal (LB).
Born in Damascus, Syria in 1981 to Iraqi parents, and raised in London from the age of 9, Allami began his musical path by studying the violin for a minor role in the Syrian arthouse film Al-Tahaleb (Rimon Butros, 1990). He moved on to Guitar, Bass and Drums during his teens before continuing on as a Drummer in the metal, post-rock and progressive rock bands Art of Burning Water, Ursa and Knifeworld.
During the US/UK-led invasion and destruction of Iraq in 2003 Allami found himself to be "out of balance" with himself and his history and in 2004—aged 23—began to study Oud, Arabic and Iraqi music with Iraqi Oud master Ehsan Emam in London. A year later he enrolled himself into the B.A. Ethnomusicology degree at SOAS, University of London and graduated with a distinction in 2008. After receiving scholarships from SOAS and the British Institute for the Study of Iraq he went on to study for a Masters and continued his research and Oud studies across Istanbul and Cairo with Mehmet Bitmez, Naseer Shamma at Beit al-Oud, Hazem Shaheen and Abdo Dagher.
Following the release of Resonance/Dissonance in 2011 Allami began tirelessly performing and developing projects across the Arab world and Europe. He returned to drumming joining Tamer Abu Ghazaleh's solo project, co-founded the band Alif—whose debut album Aynama-Rtama (Wherever It Falls) was widely praised—and in 2014 fully launched his independent record label Nawa Recordings.
He has since composed works for film, theatre and dance including the award-winning As I Open My Eyes by Leyla Bouzid (2016), All This Victory by Ahmad Ghossein (2019) and A Universe not Made for Us (2019) a collaboration with contemporary Flamenco dancer/choreographer Yalda Younes.
His recent commissions include Requiem for the 21st Century, an immersive Oud-based installation for Opera North (Leeds, UK), and an upcoming string quartet for JACK quartet (NYC, USA).
Currently he is completing an M4C/AHRC funded PhD in composition at the Royal Birmingham Conservatoire, Birmingham City University. This three year practice-based research degree will see him explore the application of contemporary acoustic, electro-acoustic and electronic compositional techniques and processes to Arabic music through the use of technology and various instrumentation.
Please see khyamallami.com for a full list of works and publications